OK. I'm meant to be doing the work set for us, but my teacher's got this week off for paternity leave, and I can never be motivated to do schoolwork if there isn't actually someone forcing me to do it. So here I am, in the school library, wasting time. Oh well.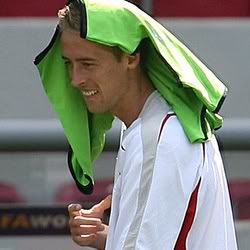 Yeah, and these picks are random. I don't actually know Crouch well or anything, so a lot of this is fanciful guesswork. I was bored, OK?

- 10% Amy Adams as Ashley in Junebug. An obvious choice, because, like Ashley, Crouchie, is sweet, lovable, and nice to everyone. Plus, like Crouch, she takes knocks from her underachieving husband, but reacts to them not with nastiness, but with a lovely resilience that just puts a smile on my face every time. Crouch does all that, and scores goals. The two people are both in their own wonderfully genuine, caring, delightful, and a source of optimism in a very pessimistic world. Amy Adams deserved the Oscar. Not that I'm saying Peter Crouch deserved the footballer of the year or anything. Damn Rachel Gerrard. I mean, Rachel Weisz. That's what I meant to say, you see.
- 10% Haley Joel Osment as David Swinton in A.I. I picked Haley for a couple of reasons. One – he was the first "odd" movie star crush I've ever had, and you could say that Crouch was the first "odd" football player I've lusted too. There's the obvious fact that Osment plays a robot in this movie, and Crouch did the robot dance, an ironic jibe at the crappy papers who dared describe his playing as "robotic". And lastly, there's the fact that, like Osment in A.I., Mr. Peter Crouch is a unique, beautiful, and very special individual that does not see enough love from the general public. I mean, why is England infatuated with the repugnant Scarlett Johansson, yet frequently makes fun of their very own goal machine? It ain't right.
- 10% Jake Gyllenhaal as Donnie in Donnie Darko and Dan Futterman as Charlie in Urbania. I've placed these two together because I've picked them for the same reasons – very weird, dark characters, but so, so, sexy. You just want them so much. Needless the say, the same goes for my future husband. But the weird factor is strong here too, especially when I think about the scenes where Jake's eyes are open extremely wide. Peter has big eyes too. (clutching at the straws here, teehee.)
- 10% Maria Bello as Natalie Belisario in The Cooler. A slightly kooky choice, but Miss Bello is fresh in my mind after I saw the World Trade Centre trailer thrice this weekend. She has the same shade hair as Crouchigol, and is one of the most striking looking of her gender (like him), although it would be pretty superficial to pick her on those grounds alone. Like Maria's character in The Cooler, Crouch is a lucky charm, but whereas she was for William H Macy, he for the England team, and in every game that Crouch has played in, save one, England have won or drawn their games. Good luck indeed, and more will be sure to come, if McLaren wisely drops Defoe when Rooney plays next Saturday.
- 5% Jimmy Stewart as George Bailey in It's a Wonderful Life. Because Crouch is just so NICE! Sometimes, like George Bailey, a little too nice. But in this film, we were taught that goodness prevails at the end, and I'd like to think that means something for Liverpool's number 15.
- 5% Mickey Rourke in Sin City & Philip Seymour Hoffman in The 25th Hour. Because they're ugly and peculiar yet curiously hypnotic, like Crouch. Although I hasten to add that My Peter does not have an array of scars scattered across his face. Eww. (Girls who find Frank Ribery hot should perhaps a) see a doctor or b) watch Paul Bettany in The Da Vinci Code.) Although another similarity between Hoffman's Humbert reincarnation in The 25th Hour is that there's something rather alluring about watching Phil & Peter sweat. OK, if I consider Hoffman's terrible Oscar accepting speech for Capote, maybe I don't mean that. I guess it depends on the situation in which they're sweating in.
- 10% Bobby Cannavale in The Station Agent. In Tom McCarthy's 2003 movie about three disjointed individuals, I guess I could have picked any out of Peter Dinklage, Patricia Clarkson, or Bobby, but, whilst Dinklage has the good fortune of sharing the same first name as Crouch, happens to be about a five of the height of him, so it may have been a little weird. Clarkson could have been a good choice except for the fact that she is sarcastic, and I don't think Peter Crouch even knows what sarcasm is, let alone how to use it, bless him. Thus, I choose the adorable figure of the Italian-Cuban Bobby Cannavale, who was a very hot gay in Will & Grace, and one of my favourite things about Snakes on a Plane. Which can also be said about any crappy football game which Peter Crouch plays in. But the main factor binding them is that they're kind of awkward and inarticulate, in their actions as well as speech, yet this merely accentuates their appeal. Cute.

And lastly…
- 40% Tim Robbins as Andy in The Shawshank Redemption. Andy Dufresne is my favourite film character of all time, and The Shawshank Redemption is my favourite film of all time, so I most certainly do not just compare him to random people willy-nilly. But the comparison is deserved here, as Crouch displays many of the qualities I found so commendable in Andy – he's a stoic, he's resilient, and one day, he'll do something huge (like the escape from Shawshank), and laugh in the face of all those who doubted him. I hope Crouchie finds his Zihautanejo, because he deserves one; whilst he may not have been in a horrible prison for 19 years, he, like Andy, has had his share of molestation (from the Media), brutal attacks (from the game as well as the jeers of "freak" he first received), and more than a few people doubting him. So basically, Peter Crouch is the Andy Dufresne of the 21st century. Of football.

Another thing about the two men is that they are very much the round peg for the square hole; never doing things the conventional way, and always standing out for one thing or another, but in the end, their route will reap greater benefits. Oh, and, Tim Robbins is the tallest person to have ever won an Oscar, and Peter Crouch is the tallest player in the Premiership. Coincidence?

Gee, I hope that was at all comprehensible. Now I'm going to do some work.