Today, on the menu (or iPod) we have:
- Pirates of the Caribbean (Klaus Badelt)
- Pirates of the Caribbean II (Hans Zimmer)
- Pride & Prejudice (Dario Marianelli)
- Pulp Fiction (various)

I also have the Princess Mononoke symphony suite, (Joe Hisaishi), but quite a few of the tracks there were not actually played in the film, and it is not the official soundtrack, so I'll leave that.

My grades for them, respectively, are A-, C, B+, A.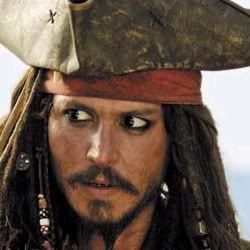 Pirates of the Caribbean (Klaus Badelt)
I've had the fun experience of playing selected pieces from this film, and, having tried fitting al the musical families together, I can safely say that Klaus Badelt's score is one of the best composed for the orchestra. Every beat of the drum, every boy of the string and every horn blare suits the feel of the film. The action-led pieces are the best (Barbossa is Hungry, Walk the Plank), but the individual viola in The Medallion Calls is quite inspired too, setting the atmosphere to this Summer swashbuckler ideally. Overall, this is one of my favourite scores to listen to at Summer, because its vibrant, shamelessly fun and completely catchy, and when I first saw the film, a lot of the love for it was due to the score. Badelt has achieved the difficult feat of creating a great score to a quirky action film, though, admittedly, he did shamelessly rip off a lot from his teacher, Hans Zimmer's score to Gladiator.
Best tracks: The Medallion Calls, He's a Pirate

Pirates of the Caribbean II (Hans Zimmer)
Hans Zimmer must have a) been sick of having his work plagiarised or b) felt like scoring 2 bloated Simmer blockbusters, because he was the one who stepped up to score this film. Like the England footballer Stewart Downing, he doesn't do much wrong – the signature adrenaline-rising crescendos, bold use of brass and occasional musical jumps are all present, but, then again, he doesn't do much right either – The Kraken could honestly have been a reworking of some of the leftovers on his score to Batman Begins and The Da Vinci Code. Zimmer adventures with usage of the organ in a few pieces to add to the ghoulish abyss of the sea, but like the substitution of Downing in a game, rarely has positive effect. Some of the tracks border on being affected, and, although there are always the welcome melodic minors to invoke some appropriate sea-sick malaise, essentially, Zimmer's score to POTC II is too dull, showy, and repetitive for anyone to truly care. Just like the film, really.
Best tracks: Dinner is Served, Hello Beastie

Pride & Prejudice (Dario Marianelli)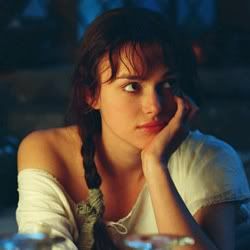 Jane Austen's tale of love and pride was adapted into an Oscar-nominate film last year by the British production company Working Title. So far, so Bridget Jones. But this eking a tale of Georgian love, Working Title wisely chose not to give the usual melee of Girl Power for the music, instead, picking Italy-born, London-raised Dario Marianelli to provide the score. It was a smart decision that paid off beautifully, as the score accompanies the natural elegance. The key essence here is romance, but Marianelli avoids tinting all his pieces with slushy cello duets, and adds tinges of excitement and tentative fear, to truly compose a piece of music that captures the feeling of being in love. That said, we all know that variety is the spice of life, and, whilst some of the score teeters a little too close to Beethoven rip-off, Meryton Townhill has a lively jig that differs from the rest of the score. You can almost imagine yourself as Lizzie Bennet just listening to the music.
Best tracks: Georgiana, Your Hands are Cold

Pulp Fiction (various)
Though the film is one of the most overrated of all time, the soundtrack deserves all its accolades and more. Tarantino always did have quite a neat record collection, and he proudly showcases it here, with ballads (If Love is a Red Dress, Girl, You'll Be a Woman Soon), a good dose of the QT cheesy-cool electro-funk (Dick Dale & His Dell Tones, not to mention to uber-catchy Surf Rider). There are also eccentricities that spring up delightfully (Flowers on the Wall), and, in my opinion, the low point of the OST: dialogue excerpts. Blah. Who wants to relive moments of pseudo-cool banter from this film when you could be lovely music? Nonetheless, glorious redemption comes in the form of two glorious songs – Al Green's Let's Stay Together, a song I connect with and revel in awe of, and Dusty Springfield's soulful, sexy, Son of a Preacher Man. The latter is actually contender for my favourite song of all time, and, though a lot of it is for nostalgic reasons, it still rules. Very, very, nice.
Best tracks: Son of a Preacher Man, Surf Rider

Oh Yes, one more thing: this is a type up of what I wrote in China, when Downing had not played so well against Greece. So now, replace "Stewart Downing" with "Someone Mediocre" in the review. Cheers.
Ooh. And three of these movies star Knightley. Odd.