Yup, I wrote a lot when I was in China. I was that bored. Oh yeah. There's quite a few lame jokes scattered about in here (mostly football in-jokes.) I think I wrote this during the England Vs. Ecuador game.

The menu:
- Lemony Snicket's a Series of Unfortunate Events
- Les Choristes
- Life Aquatic Studio Sessions
- Lost
- Lost – Adventure Edition
- Lost in Translation
- Love Actually
- The Legend of 1900
- The Lion King

My grades: A, B+, B, B+, A, B+, B, B.

And yes, I realise Les Choristes is really a "C," but I forgot it when reviewing the soundtracks beginning with Cs. So there.

Lemony Snicket's a Series of Unfortunate Events (Thomas Newman)
My favourite composer of all time does it again with another beautifully orchestrated, original and memorable score. Like the film itself, the score is quirky and dark with tinges of melancholy and magic. Newman's winning touches are all here – diminished sevenths, tentative piano chords and sudden thuds of string, but he has also delved into his bottomless pit of talent here to bring us something, that, like Count Olaf, is out of the world. The Letter that Never Came recalls Finding Nemo's harmony of piano and violins, but the sweet tune varies such that it feels like something deliciously new. And who can forget the end theme, Drive Away, an up-tempo electric-guitar driven piece, which is as catchy as it is incredible. A true eargasm.
Best tracks: The Letter that Never Came, Drive Away

Les Choristes (Bruno Coulais)
A symposium of young boy's voices provide most of the score for this Fre
nch film, and age does not equate to greatness, because the voices are some of the mellifluous to listen to, and the beauty of the music is enhanced by the pretty French lyrics. The stand-out track of the CD is the Oscar-nominated song Vois sur Ton Chemin (Look to Your Path), a beguiling little number, irresistible in its simplicity, and In Memoriam a Capella has the same voices singing an altogether spikier, more pacier track. Unfortunately, the composer seems to be preoccupied with this particular piece, because it features on the OST in some form or another 3 times (A Capella and L'Incidie are the two other forms), and the repetition is my main foible with this score. Because, wonderful as it is, the same songs seem to double or treble up an awful lot, hinting at laziness. The only thing that mars a nice collection of songs, vocal and orchestra.
Best tracks: Vois sur ton Chemin, Pepinot

Life Aquatic Studio Sessions (Seu Jorge)
(Don't think you need me to tell you that this is the additional CD with the film, NOT the overall OST.)
A CD featuring all Portuguese covers of David Bowie songs is a rare commodity, but, here it is. Seu Jorge's voice is a soft triumph, and the mellow guitar in the background accompanies it excellently. In re-covering Bowie's songs in a foreign language, none of the essence of the songs are lost in translation, apart from perhaps the grasp of iambic pentameter; in some verses, you can hear Jorge straining to fit in the multi-syllabic words in with the riffs, which sadly detract from the music. Nonetheless, it's always nice to listen to something non-English yet feel like you completely understand it, and this collection of songs gain points for sheer ingenuity and eccentricity. And it's the cheapest way of experiencing some of the sun-kissed Tropicana all Summer.
Best tracks: Rebel Rebel, Changes

Lost (Michael Giacchino)
J. J. Abrams has gotten so accustomed to Giacchino's scores that he asked him to score the Summer blockbuster of the year (Mission Impossible III), and this score showcases Giacchino's many and varying talents as a musician. Suspense on the score is rife, with high notes on the violin screeching as a tuned timpani plays about 5 freaky notes in succession, and various other non-instruments are employed to create equally freaky sound effects. Each track has something new, but sadly, after 5 or so tracks of tension, we get somewhat tired of it all. What a relief when the elegiac, mournful string-pieces come then, as they are eloquent, elegant and lovely, not least the track Hollywood and Vines, which features cellos, violins and violas accompanying each other excellently.
Best tracks: Hollywood and Vines, Oceanic 815

Lost – Adventure Edition (Michael Giacchino, various)
Two OSTs for the same TV show? Well, I totally adore Lost, which is just as well, because quite a few of the tracks on here are also on the Lost OST (Higher Ground is just Hollywood and Vines dubbed with some dialogue at the beginning). I don't care much for all the added dialogue (I firmly believe a soundtrack should feature music and music only), but what this OST has that the other lacks is the collection of non-original songs that feature in pivotal moments on season 1. Joe Purdy's cute Wash Away will no doubt be playing in my mind as I open my GCSE results, Leavin' on Your Mind is a welcome dose of country music, and Willie Nelson's incredible voice bellows out Are You Sure with the same power that he did on the Brokeback OST. The soundtrack's choice to repeat lots of the same songs with different dialogue, is, quite frankly, worthy of castration, but there are some songs that really do redeem that. They epitomize "deep," and its hard not to get "lost" in them. (Look, I wrote this in China, OK?!)
Best tracks: Are You Sure, Wash Away

Lost in Translation – KMN Special Edition (various)
Those that frequent this website, or perhaps even those that have heard me speak, may know that I do not hold this film in the highest consideration (I honestly consider it the 14th worst film of all time), although the soundtrack, I'll admit, is rather snazzy. Featuring a wide range of songs and genres of music, the OST sports two of my favourite songs of all time, including Phoenix's, wistful, sweet, beaut – Too Young, which could be young Theo's anthem. The instrumental piece, Alone in Kyoto from Air is amongst their best works, a blessed out, ethereal dream of electronica. And, this being the special edition, also has an excerpt from Nina Rota's masterful score the La Dolce Vita. Even the lows of the OST – Peaches extraordinarily bawdy Frick the Pain Away, makes for an amusing guilty pleasure listen. Sofia Coppola, as with The Virgin Suicides, puts her experience as a music video director to exemplary use, compiling a soundtrack as cool as they come. Pity about the film.
Best tracks:
Too Young, Alone in Kyoto

Love Actually (various)
One of my most feel-good films of all time, one also one of my feel-good soundtracks. Richard Curtis' wintertime multi-linear love features a large dose of love songs, singing about all the different aspects of it. Lynden David Hall's rendition of All You Need is Love is catchy and cute, Jon Mitchell's powerful vocals speak of heartbreak in Both Sides Now, and Norah Jones' instalment Turn Me On is a smart, smooth and (unsurprisingly) sexy piece of jazz. Pointer Sisters add to the kitsch value, and Maroon 5's Sunday Morning is a perfect accompaniment to any Sunday morning, making this a well-rounded soundtrack. Sadly, Craig Armstrong's adorable composition that played in that airport scene is suspiciously absent. Bleh.
Best tracks: Turn Me On, Sunday Morning

The Legend of 1900 (Ennio Morricone)
It's been a while since I've seen Tornatore's film, but, before I went to China, I went to a Morricone concert, so the music is still fresh in my mind. 1900's Theme, is my choice for standout tune of the score. "1900's Theme" is a strong opening for the score; dominated by strings, but given a dosage of American spirit with the nod to George Gershwin for the piano. It's a smart composition trick that works to great effect. The score goes on the tribute other great styles of music too, from jazz, ragtime and classical, and this is embodied in the Mozart-styled A Mozart Reincarnated. Morricone, one of the composing masters, is right at home in his composition for the tale of a talented musician. Similarities and all.
Best tracks: 1900's Theme, A Mozart Reincarnated

The Lion King (Hans Zimmer, various)
One of Disney's most mature films showcases some songs that echo this maturity, and others that, sadly do not. I speak of course, of I Just Can't Wait to Be King. The song is whiny, annoying, and quite frankly, anyone who has to rhyme "beware" and "hair" needs to go ba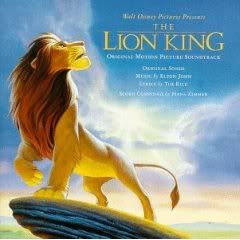 ck to song writing class. However, I adore the song "Circle of Life," even if I understand… none of the lyrics. Four of Hans Zimmer's Oscar-winning pieces feature, and they are all as exquisite and rich in musical flavour as each other. But obviously, the thing that you'll be taking away from this OST is Elton John's rendition of Can You Feel the Love Tonight, ebbing in vocal talent and secret malaise. Lovely.
Best tracks:
Can You Feel the Love Tonight, Circle of Life

The best of these soundtracks…
01. Drive Away (Thomas Newman, Lemony Snicket)
02. Too Young (Phoenix, Lost in Translation OST)
03. The Letter that Never Came (Thomas Newman, Lemony Snicket)
04. Alone in Kyoto (Air, Lost in Translation OST)
05. Vois Sur Ton Chemin (Bruno Coulais, Les Choristes)
06. Turn Me On (Norah Jones, Love Actually OST)
07. Wash Away (Joe Purdy, Lost OST)
08. Hollywood and Vines (Michael Giacchino, Lost)
09. Can You Feel the Love Tonight (Elton John, The Lion King)
10. Changes (Seu Jorge, Life Aquatic Studio Sessions)

Right. Any other requests?