Quentin Tarantino's two-part martial Arts epic divided critics. Some saw it as a fanboy's picture lacking in direction, plot, or proper characters. Others thought it was a stylish, well-crafted masterpiece. I learn closer to the latter. I found it highly entertaining. I loved the character of The Bride and was impressed with the flashes of heart in the final Act of Volume 2. But what I loved most of all was the eargasm of the soundtrack, quite possible my favourite soundtrack to a film of all time.

The epic opens with Nancy Sinatra's Bang Bang, one of her finest songs. 2003 was the year this song became cool, as it featured on ringtones, and was remixed into rap songs, electronica, the whole deal. But the original form is the definitive. Sinatra's usually upbeat vocals (listen: These Boots are Made for Walking, Lightning's Girl, Jackson) and happy voice is hauntingly chilling here, and, along with the cold, calculated broken thirds on the bass only accentuates the icy brilliance of this song.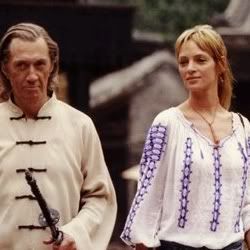 Various instrumentals are scattered around, and each is as much of a enjoyable listen as the next, and many are also a goldmine for audophiles such as myself: from Isaac Hayes, 70s throwback, maracas, drum & trumpets Run Fay Run, and Green Hornet (Al Hirt) does a brilliant version of Rimsky-Korsakov's Bumblebee, which, essentially, sounds like a super-hyper bumblebee on crack. Classical influence, soul-into-rap, all the rules of the game are broken here, although QT's not afraid to occasionally play it straight: Woo Hoo, The Flower of Carnage.

Now. Anyone heard Nina Simone's soulful, sexy song Don't Let Me Be Misunderstood? It's a song that I totally connect with, and couldn't imagine being remade. But recovered it was, by Santa Esmerelda, into a 10-minute track. Changes in voice, tempo and backing instrument including a 20-second castanet solo create a fun, bright song, very different from the original, but catchier, and somehow, retaining the sultriness, even with all the sun-kissed instruments.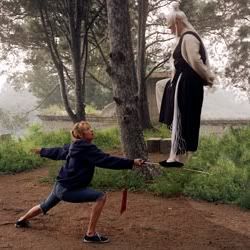 Random other eccentricities grace the soundtracks. Bernard Herman's claustrophobic, whistle-while-you-work tune, Twisted Nerve, invokes feelings of utmost fear and tension in me, despite having the appearance of an innocent hum tune, and The RZA, who did the only original music for the first film, uses part of his own score (played in the part where Uma is in the hospital car park, you know which scene I mean), and dubs it with voice to provide the Ode to O-Ren Ishi. And yes, he did just rhyme "Ishi" and "Japan-esie." No one else could pull it off but The RZA.

Revenge is best known in Westerns, and the Western influence on these two films are evident from the music. Charlie Feathers, Luis Bacalov, and most of all, Ennio Morricone embody this. But Tarantino doesn't just plagarize. He plagarizes, but also adds his personal touches (those touches are generally also borrowed from somewhere or another). Here, he mixes 70s Western with Japanese fight-flick, and in doing so, shoots the moon, providing us with quite possibly one of the most unforgettable instrumental tracks of all time: Battle without Honour or Humanity. Tomoyasu Hotei's masterpiece is an orgasm-inducing amalgamation of adrenaline-fuelled synths, a repetitive catchy bass tune, and THAT cheesy-cool DUM DUM DUM denouement. Like Bang Bang, it was one of the it tunes of 2003, played on an absolute loop on mobile phones, Award shows, and kitsch fight montages. It was most recently used for the add of the Channel 4's Supernanny, and it never fails to raise a smile from me. He.

Things take a more subdued note on Volume II, as, straight after we've been given a few words from the Bride, we're introduced to Shivaree, in the ghoulish, yet oddly unpleasant Goodnight Moon. The lyrics are understandably nasty, but the song is utterly hypnotic, and just screams for repeat listens, not least for Shivaree's airless, floaty vocals. Then the call for Morricone plays up, with the first of three from the master composer, Il Tromonto, an atmospheric, but foreboding tune.

Two tone-setting instrumentals feature heavily: Luis Bacalov's Summertime Killer, where just the bare pattering of fingers on the drum sounds cool, and The Chase, Vol. 2's counterpart to Battle Without Honour or Humanity. Less impactful, but every ounce of thrill is still there in the strumming, and that fantastic piccolo, which plays like its their birthday. Morricone features twice more, with L'Arena, and, my personal favourite, A Silhouette of Doom which just exudes the Western, cool-guy, couldn't give a damn aura, yet at the same time, you're looking over your shoulder. Too be frightening and cool at the same time is one thing, to be all that, and personify the Westerns in just a simple booming of timpani is another. Morricone is the master.

Chingnon's Spanish vocal song, Malaguena Salerosa captures the aftermath of killing Bill perfectly, and could very well be the tune that describes the Bride better than the rest. And Urami Bushi is the perfect send-off tune. But the track on the Volume II that truly stands out for me is Malcolm McLaren's She's Not There, the song which played in the poignant scene where Bea lies with her daughter. It's certainly a curious effort, as the bleating of "My man, got a heart…" has been described by my friends as "rather sheepish." And there isn't much in terms of lyrics either, as a lot of the song goes, "So no one told me about her." Yet… I was and am completely in awe and captivated by it. The backing vocals, score in the background, and not least that ridiculous beautiful instrumental part that ends the song… everything just comes together wonderfully, to provide one of the most haunting and memorable songs of all time.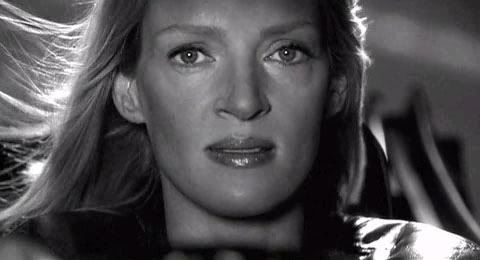 And now, the top 10 songs over the two soundtracks:
01. Battle Without Honour or Humanity (Tomoyasu Hotei)
02. About Her (Malcolm McLaren)
03. Don't Let Me Be Misunderstood (Santa Esmerelda)
04. The Chase (Alan Reeves, Phil Steele, and Philip Bringham)
05. Summertime Killer (Luis Bacalov)
06. Bang Bang (Nancy Sinatra)
07. Goodnight Moon (Shivaree)
08. Twisted Nerve (Bernard Herman)
09. A Silhouette of Doom (Ennio Morricone)
10. Urami Bushi (Meiko Kaji)