If you're reading this and I've told you not to, go away, please.
So yeah, in an attempt to beat this post-exam blues, I have treated myself to a different Leonardo DiCaprio film every day. Pretty sad, I know, but hey, it works.
Okay, so this week, I have seen: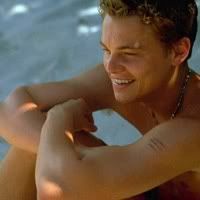 -
The Beach
(Danny Boyle, 2000)
I really liked the book of this, and I must say, I found the film most disappointing. The direction was weak and screenplay très flawed, with lines of dialogue wooden enough to match that of
Titanic's
. I didn't think Virginie Ledoyen was very good (I say this partly out of jealousy), and neither was Tilda Swinton (I say this out of contempt). The film starts out decently, but then escalates into such absurdity that I wanted to scream, and in the end, just passes as a generic thriller/atmosphere piece. That said, Leo walks around with his top off a LOT.
Film: C-
Leo's performance: B-
Leo's looks: A-
-
Catch Me If You Can
(Steven Spielberg, 2002)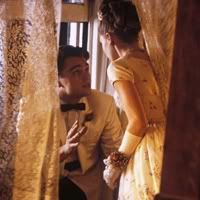 Entertaining little piece from Steven Spielberg, which came out the same year as his superior
Minority Report
(where Tom was quite a babe too. Sorry, had to say that.) I really liked me some Frank Abagnale Jr, I found the guy a real layer cake, and Leo had all the right elements – charisma, charm and that edge of corruption to play him, and play him finely. Also, something I didn't notice before was that Amy Adams (of
Junebug
fame) is in this film! Anyway, the acting is generally good, the score from John Williams catchy and has a nice title sequence. Fun, if forgettable fluff.
Film: B
Leo's performance: B+
Leo's looks: A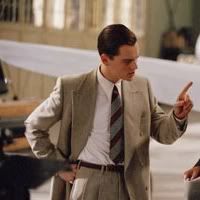 -
The Aviator
(Martin Scorsese, 2004)
OK, I wasn't planning on seeing this three hour arse number, but the incessant prattling from my friends kept saying it was better than
Baby
got me to. Anyway, first thing to say was: Technicolor! The use of colour was beautiful, and shone in every frame. I particularly liked the turquoise beans in the restaurant. The film itself was quite boring, though there were some scenes that worked well, mainly the ones between DiCaprio and Blanchett. Leo and Cate themselves are great in the film; the former never overplaying the tics as Hughes and undergoing the aging process convincingly. The false moustache looked as bad as it did on Jake, though.
Film: B-
Leo's performance: A-
Leo's looks: first half – B+, second half, C

-
William Shakespeare's Romeo + Juliet
(Baz Lurhman, 1996)
Moulin Rouge
! was a disaster, but I really love this film. It is so beautiful, hip, cool, sexy, intelligent, witty, and clever. So yeah, it's a good film, with a wonderful screenplay, that retains the Shakespearean dialogue, but suits the modern day setting, and, having studied this, I love it the more. My only complaint is the editing, which was enjoyable, but also on it's way to giving me a headache. The soundtrack accompanies the film perfectly, there are some deft supporting players (Harold Perrineau, Paul Sorvino and John Leguizamo), but the true star is Leonardo DiCaprio, who gives a performance more layered than an onion, more well-painted than a DaVinci, and hotter than a pepper sprout. I said,
Goddamn
.
Film: A-
Leo's performance: A


Leo's looks: A*



-
Titanic
(James Cameron, 1997)
One of the cheesiest films of all time, but still kind of sweet. I don't want to shower this film with accolades, as it has been a least favourite of mine for a very long time, but blah, I guess the I saw the novelty in it this time. It was OK, I guess. The sound was good, cinematography nice, and Leo &
C
Kate were good together. The writing wasn't, though, and I present you with, "I'm the king of the world!!!" Shudder.
Film: C+
Leo's performance: B+
Leo's looks: A

So, in terms of the grand scale:
Best Films
01.
William Shakespeare's Romeo + Juliet
02.
What's Eating Gilbert Grape?
03.
The Basketball Diaries
04.
Gangs of New York
05.
Catch Me If You CanBest Performances
01. As
Romeo Montague
in
William Shakespeare's Romeo + Juliet
02. As
Arnie Grape
in
What's Eating Gilbert Grape?
03. As
Hank
in
Marvin's Room
04. As
Howard Hughes
in
The Aviator
05. As
Jim Carroll
in
The Basketball Diaries
I won't do the third category. No, I will.
Sexiest Performances
01. As Romeo Montague in William Shakespeare's Romeo + Juliet
02. As
Jim Carroll
in
The Basketball Diaries
03. As
Frank Abagnale Jr.
in
Catch Me if You Can
C04. As
Jack Dawson
in
Titanic
05. As
Richard
in
The BeachAnd to end with, some Trivia:
- Has been nominated for 9 MTV movie awards, and won 2. (I don't know why I said this)
- Is of German, Italian and American descent.
- Was one of the biggest helpers in raising funds and aid in the tsunami appeal.
- … One inch taller than
Jake Gyllenhaal
. Very important.