Today's letter! S! Sexy S! And there's a whole lot of them to review…
-
Schindler's List
-
Scrubs
(Season 4)
-
Serenity
-
Shaun of the Dead
-
The Shawshank Redemption
-
Shrek

-
Shrek II

-
Sin City

-
Spanglish

-
Spirited Away

-
Stand By Me

-
Star Wars: The Phantom Menace

Um, looking at some of them, I know what you're thinking. But before you hasten to judge, you must bear in mind that I was given a lot of these. My grades are A-, B, C, C, A, B+, A, C, B-, B+, A- and D-. Also have
The Simpsons
,
Syriana
and a couple of others lurking around somewhere, but I haven't yet uploaded them to my MP3 player, thus, and I cannot be arsed to move.
Schindler's List
(John Williams)
The heart-rending playing of Izthak Perlman is the main draw of this masterfully orchestrated score, which accompanies each of the images of the film perfectly, right from that very first introduction to the man himself. I had the pleasure of learning the Theme for my grade 7 violin C-piece, so I think I'll ramble on about it. I think the form is binary, though I'll have to check up on that, and the A part is the playing of the theme in its original low octave, appropriately accompanied with those rare chiming of harp and clarinet. The second part starts a little faster, then modulates to the first section, except two octaves higher. When I first started it, I was terrible, because you have to go into about 7th position on the violin, and after a while, it really hurts. Not that you'd be able to tell with Perlman's rendition, where the playing in the second half matches, if not betters the beauty of the first. A truly talented musician, and it stings to think that he wastes his talent playing the violin to crap like
Memoirs of a Geisha
.
Best tunes:
Theme from Schindler's List, Remembrances, Midnight Show
.
Scrubs
– Season 4 (various)
Zach Braff, star of medical comedy Scrubs handpicked the songs for his directorial debut,
Garden State
, and I'm inclined to think he was influenced by some of the music from his own TV show, as
Blue Eyes
from the Cary Brothers features on both OSTs. However, that is where the similarities end, because the wide range of songs here totally define eclectic. From Hawsley Workman, Mozart, Robert Palmer and Jets to Rimsy-Korsikov, there is a different song for just about any mood. Of course, the trouble with having such a wide variety is that sometimes the general gist of the music can get lost in the hubbub, but overall, indulge in the randomness.
Best tunes: Something, Today
Serenity
(David Newman)
Meh. Not a fan of the film, nor am I of the score, there are moments of intensity that strike the occasional chord and its appropriately atmospheric, but unless you're missing
Star Trek
, I'd say bin it. Or, play it and the
Crash
score at the same time, and you've just made yourself an aquarium.
Shaun of the Dead
(various)
Though the soundtrack sounded beyond sublime on the film, to sit down to, some of the tracks get a little tired and the audio tracks are nothing short of grating without the images to go with. The collection of classic rock songs are not to be faulted, of course, especially the lovely Queen's
You're My Best Friend
. The rest is a little samey, but the
Zombi
dub with Simon Pegg and that fat man is quite amusing.
Best tracks:
You're My Best Friend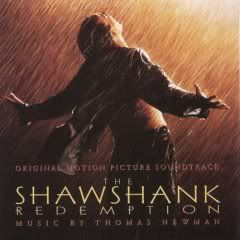 The Shawshank Redemption
(
Thomas Newman
)
So good, it's been pinched for the
Brokeback Mountain
trailer,
Thomas Newman
's score to
Shaw
ranks as one of his best works. Like a magician, he deftly captures the essence of prison life in his score, from the foreboding (
New Fish
, delicate chords exuding uncertainty), the quietly triumphant (drawn-out strings moderating to an upbeat pizz, a highlight of
Finding Nemo
), and the utterly devastating (Andy's sadness and fear are flawlessly composed in An Inch of His Life, where almost a minute is sound effects, [an effect echoed in
Mental Boy
from
American Beauty
]. Newman exhibits his ableness with all the instruments, though, mind, as everything comes together majestically in the final End Titles, giving the film the sense of triumph, with the woodwind singing neatly in the background as the violins sing Andy and Red's joy. But the highlight for me are the triumphant fiddles in
And that Right Soon
, a piece as fantastic as the scene it accompanies, dancing with Andy's glee. This film is my favourite of all time, and it has so rightly been given the music it deserves.
Best tracks:
And that Right Soon, End Titles, So Was Red, Stoic Theme
Shrek
(various)
It was one of the most successful children's films of all time, but adults found something to love in it too. I'm sure at least some of this was down to the soundtrack, which feature a collection of pop records that would normally seem dated, but are suddenly cooler having appeared in this film. At times the youth of the film may be a little too clear, through the songs Bad Reputation and
Like Wow
!, which practically scream youth and immaturity, whilst Eddie Murphy's
I'm A Believer
is amusing, if a tad silly. Nonetheless, Dana Glover, Eels and particularly My Rufie bring the edge of emotional force needed to elevate this above generic Dreamworks stuff. Indeed, Rufus Wainwright's soulful rendition of
Hallelujah
is one of my favourite songs of all time, absolutely shattering in its sadness, soul and an impassioned, unfightable desperation. Hot damn.
Best tracks:
Hallelujah, My Beloved Monster
Shrek II
(various)
Whilst not equally its prequel in terms of quality, the soundtrack is even better. Opening with the Oscar-nominated, Summer song of the year, Counting Crows deliver
Accidentally In Love
, a fun, sweet and catchy and effortlessly feel-good. None of the sad songs equal Wainwright, though Eels try with
I Need Some Sleep
, an oddity that begins like a lullaby but harbours some grown-up themes in its lyrics. Lipps Inc's uber-catchy
Funky Town
is great fun, Tom Waits' husky vocals shine on
Little Drops of Poison
, a track that is freaky and captivating in equal turn. The downside of this package is actually Jennifer Saunders's wailings, as I'm never one for actors' voices featuring on soundtracks, but that little glitch aside, this is one of the most fun, listenable soundtracks I own, with a new delight every time you listen to it. My latest discovery was Frou Frou on
Holding on For a Hero
. Priceless.
Best tracks:
Accidentally in Love, Changes, Little Drops of Poison
Sin City
(Robert Rodriguez, Graeme Revell and John Debney)
So hurried was the post-production of Rodriguez's film, he had to call on three composers just to get it scored in time, a different guy for a different segment. John Debney, the most accomplished of the three, does the best work, as his tunes ring a persuasive, sexy jazziness, not different to that in
The Incredibles
, though to be fair its all pretty mediocre as a sit-down listen. The theme is appropriately comic book, though.
Best tracks:
Sin City Titles, Old Town

Spanglish
(Hans Zimmer)
To hablar
Spanglish
is to say English and Spanish. Such a culture clash needs to come across in the music, and Zimmer hasn't entirely convinced me with his efforts. Granted, it's awfully nice to listen to, though the same recurring theme (
Spanglish
) gets a bit boring, and sometimes you can't see where he's going with the music. Yes, I'm talking about the 10-minute long piece
The Beach
, where violins and guitars alternate like there's no tomorrow. As witness in the track
Learning Spanglish
, the guitarist is certainly capable one, and the accompanying strums/pizzs complement his playing, but, as I say, tell me the direction, and the grade will improve. Not a failure, just a bit odd.
Best tracks:
Learning Spanglish, Spanglish
Spirited Away
(Joe Hisaishi)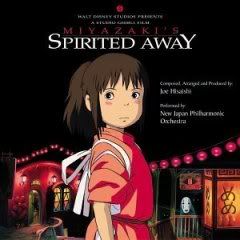 Practically every track echoes mystery and a gorgeous sense of adventure in Hisaishi's score, showing that he's scored again (ahem) with Miyazaki. The opening booms of No Face actually made me jump the first time I heard them, which is just a testament to the ambience of the piece, especially as, seconds later, it transforms into a rhytm-fuelled drum beat. In terms of instruments, there isn't a whole lot of variety, but what's on display – the drums, the cymbals, the tentative violins, they dance around each other delightfully. Hisaishi's score is a rich blend of broad orchestras and piano, melancholy pieces, I can hear hints of Japanese music amidst but the composition remains ever accessible. From excitement to fear to anger, it guides us through the emotions of the protagonists beautifully.
Best tracks:
The Empty Restaurant, The Stink Spirit
Stand By Me
(various)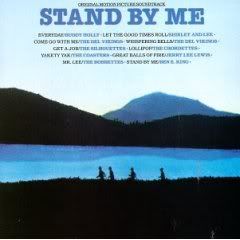 Another Stephen King adaptation is given another excellent soundtrack, this time through a selection of well-known 50s rock classics, as well as some quiet, under heard masterpieces. At just over 23 minutes, it rates as one of the shortest soundtracks I own, but what is on show is simply excellent. Coasters sing the lively
Yakety Yak
and there are two lovely Del Vikings tunes, amongst the many others –
Everyday
and
Get a Job
are two other good songs, and
Lollipop
is fantastically catchy in its childishness. But the highlight of the soundtrack is Ben E King's soulful vocals on
Stand By Me
. Listening to this is a timeless, exquisite experience, that only stands to remind you how amazing the film is.
Best tracks:
Stand By Me, Lollipop, Come Go with Me
Star Wars: The Phantom Menace
(John Williams)
I've never been bowled over by the music in the
Star Wars
films, and that is probably because in listening to the music, I remember the mediocrity (at best) of the films. John Williams seems to feel it to, as he reverts to autopilot for most of the action sequences, a la booming crescendos at practically every climax and the clashing cymbals featuring so often that they would give anyone a headache. There is little originality.
The Phantom Menace
is pratically a mirror of previous Williams scores.
The Droid Invasion
is a blatant child of
Belly of the Steel Beast
from
Indiana Jones
and the use of high woodwind runs screams to Jurassic Park. Aficionados of the "films" will see this as a must own, but I wouldn't waste your time or your money.
Best track: um...
The best of these soundtracks…
01.
Hallelujah
(Rufus Wainwright,
Shrek
)
02.
And that Right Soon
(Thomas Newman,
The Shawshank Redemption
)
03.
Theme from Schindler's List
(John Williams,
Schindler's List
)
04.
Stand By Me
(Ben E King,
Stand By Me
)
05.
End Titles
(Thomas Newman,
The Shawshank Redemption
)
06.
You're My Best Friend
(Queen,
Shaun of the Dead
)
07.
Accidentally in Love
(Counting Crows,
Shrek II
)
08.
So Was Red
(Thomas Newman,
The Shawshank Redemption
)
09.
Funky Town
(Lipps Inc,
Shrek II
)
10.
Little Drops of Poison
(Tom Waits,
Shrek
)
11.
I Need Some Sleep
(Eels,
Shrek II)
12.
Blue Eyes
(Cary Brothers,
Scrubs
)
13.
Holding out for a Hero
(Frou Frou,
Shrek II
)
14.
Remembrances
(John Williams,
Schindler's List
)
15.
Come Go With Me
(The Del Vikings,
Stand By Me
)
16.
The Empty Restaurant
(Joe Hisaisi,
Spirited Away
)
17.
You're My Best Friend
(Queen,
Shaun of the Dead
)
18.
Stoic Theme
(Thomas Newman,
The Shawshank Redemption
)
19.
Spanglish
(Hans Zimmer,
Spanglish
)
20.
Sin City Titles
(Robert Rodriguez,
Sin City
)