Jane Austen's timeless novel of misunderstandings, pride, and narrow-mindedness is taken by Joe Wright and his capable team of Working Title to bring us the love story of Lizzy Bennet and Mr. Darcy, two people who couldn't be more right for each other.

The story takes place in Georgian times, when the rule of entail means that, with five daughters, the Bennet family inheritance is likely to be passed on to the closet living male, the dim-witted, sycophantic Mr Collins. Things start looking good when the sweet-tempered Mr Bingley joins Longbourne, and instantly takes a liking to Jane, the oldest daughter. The introduction between Lizzy (the second daughter), and his friend, Mr Darcy couldn't be more different though, as Mr. Darcy rudely snubs Lizzy, and she makes a vowel never to dance with him. But through various circumstances including Mr Collins, the ambiguous Mr Wickham and Elizabeth's visit to Pemberley, the two characters are brought closer and closer together.

As many Working Title titles, from
Bridget Jones' Diary
, to
Notting Hill
, all contain traces of Austen, it seems only fair that their interpretation of her greatest novel should rank amongst their best films. And I would like to think of the film as an "interpretation" rather than an "adaptation," because, on the whole, there are many things in the film that I expected differently, having read the novel. Mr Collins, for example, played with restrained humility here by Tom Hollander, could have been more of a toady. The change of setting of Darcy's first proposal in the rain, was also a pleasant surprise, as, on the big screen, the rain just adds that extra oomph to the anger felt by Lizzy. So, on the whole, though the film has not been as true as it could to the novel, I'm willing to overlook most of this, as by adding these touches, the story has been made accessible for the 20th century.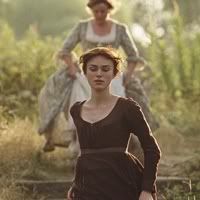 Keira Knightley received an Oscar nomination for Best Actress as the literary hero Elizabeth Bennet, in a relatively unbaity role, as, compared to recent Best Actress nominees, she does very little crying, sighing, or worrying. Although I wouldn't hurry to say it was deserved, one thing is for certain: it is her performance here is her best work by far. As Lizzy, she is playful, tomboyish and witty, and, if she did giggle too much, this is redeemed by the poignancy to which she plays the caring sister, loyal friend, and clever daughter. Matthew "
Spooks
" MacFayden is less capable as Mr. Darcy, underplaying the aloofness and giving somewhat of a wooden performance. As the sardonic Mr. Bennet, Donald Sutherland gives a moving performance, shining especially in the final scene, and Brenda Blethlyn uses her fussy mother neuroses to hilarious degree as the effortlessly annoying Mrs Bennet. Rosamund Pike, Tom Hollander and Judi Dench offer fine support, though Jena Malone is both too grating and too American as Lydia.
There is a gorgeous yet understated way in which costume designers, art decorators and the director of photography have brought the look of the Georgian middle class to us. The Bennet household, for one, delicately juxtaposes paintings and floor rugs with Mrs. Bennet's signature untidiness, and the opening sequence, in which Lizzy is followed around the garden, and the colours in the sky are captured on screen, is a feast for the eyes. Special kudos to Jacqueline Duran for her excellent costume design, which is appropriately earthy and simple,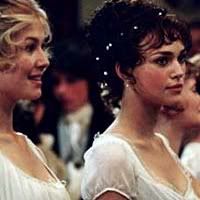 yet helps each of the actors shine in their personas. And to close this winning bundle, expert pianist Dario Marianelli calls on his Purcell and Beethoven influences to score the film, fuelling much of the romance, tension and atmosphere.
As a great fan of the novel I feared that I may be too strict on the film, but it truly is a very enjoyable experience. Whilst it might not be quite as exquisite as Ang Lee's Sense and Sensibility, it sits up there as one of the better Jane Austen adaptations to come along in a long time. Go in without wanting to scrutinize every detail, and you will find a joyful love story, funny, sweet and relevant in equal measure.
B+