Woman. We are so much better than men. 'Tis all that needs to be said. Here are a selection of leading ladies in cinema that I really admire, because I feel that heroines are far too overlooked.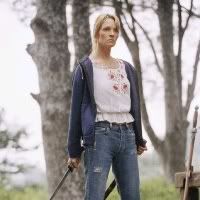 01.
The Bride
(Uma Thurman,
Kill Bill
)
Branded the yellow haired warrior, embodied in Uma Thurman's oh-so-chic figure, Black Mamba jumps from continent to continent, avenging her merciless attack and the seeming loss of her baby, speaking Japanese fluently, exercising immeasurably guile, and just looking cool. She can throw knives and karate kick her way out of any situation, better than any female I know, no matter how many opponents, but one fleeting look at her presumed dead daughter, and she is reduced to human weakness by the one thing not trained in – motherly devotion. That is humanity. Cool humanity.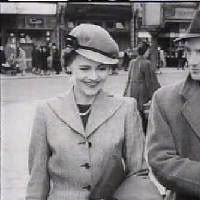 02.
Laura Jesson
(Celia Johnson,
Brief Encounter
)
Leading the yawningly mundane life with perfect contentness until she meets Dr Alec Harvey, Laura Jesson is the epitome of one time English flower come desperate housewife. As she continues with her clandestine meetings with the doctor, Laura rejuvenates her happiness of youth. But like all things in life, nothing lasts forever, and that Laura comes to accept that is a testament to her brilliance. It would have been so easy to run away with Alec, or tell him to stay, but Laura does what she knows is best for them, even if it costs her momentary happiness.
03.
Holly Golightly
(Audrey Hepburn,
Breakfast at Tiffany's
)
Audrey Hepburn is the screen Goddess that have brought us many memorable characters such as Eliza DoLittle and Sabrina Fairchild, but her most brilliant creation is, in my opinion, her interpretation of Holly Golightly. An high-class call girl, confused by herself in a whirlpool of human desire and aspirations, Hepburn plays all the polarising forces of Golightly, from her "people's person" side at parties, to her sensitive, insecure side when she's with her man George Peppard, showing that, in most cases, the brunette beauty, world wise smarts and pipe tobaccoed image; 'tis nothing but a well-created façade, hiding a woman that is as worried about love as we all are.
04.
Wei Minzhi
(Wei Minzhi,
Not one Less
)
As the young, inexperienced and thoroughly unglamorous child living a thoroughly unglamorous life, Wei Minzhi creates a very genuine and sad character that is eternally ennobling to watch. Her sheer determination to just earn that tiny reward is one of her best qualities, but the thing that makes her character most accessible to me is how she captures the hardship of life for all children growing up in rural China, and how she refuses to feel sorry for herself, until the very end, when there seems to be no hope left.
05.
June Carter Cash
(Reese Witherspoon,
Walk the Line
)
Reese Witherspoon plays the singer-songwriter-country music star that grabbed the attentions of Johnny Cash, but proved a hard win, forcing him to quit his narcotic dependence and violent self-destruction before she'd consider him. June Carter Cash never had it easy – her first husband left her for another woman, and divorce in those days was completely loathed (witness the rudeness she receives in the convenience store), but her feminist self-respect brought her above any signs of self-pity as she ploughed on ahead, and found true love, and both earns and gives to the respect of Johnny Cash.
The next strong females….
06.
Mildred Pierce
(Joan Crawford,
Mildred Pierce
)
07.
Ilsa Lund Laslo
(Ingrid Bergman,
Casablanca
)
08.
Annie Hall
(Diane Keaton,
Annie Hall
)
09.
Cathy Whittaker
(Julianne Moore,
Far from Heaven
)
10.
Louise Harrington
(Laura Linney,
P.S…
)

I adore Lizzie Bennet, but I wasn't overly taken with Knightley's performance as her. No Scarlett Johansson characters. Sorry, but this isn't a gallery of "Who's Who" of sluts.