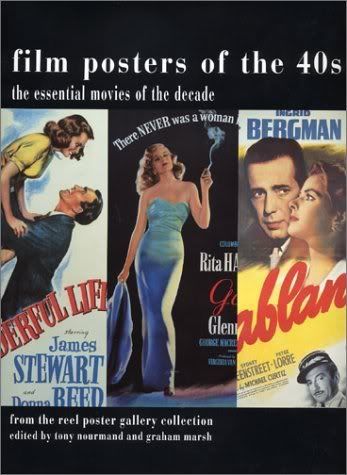 Item number 12:
Film Posters of the Forties: The Essential Movies of the Decade
When I spoke of nice film posters yesterday, that was also subconcious foreshadowing, for I can link on neatly with this book. I currently see it as an information source for pretty pictures, as well as informaton on how those pictures were produced (which ought to come in handy, as I've thrown 60% of my D.T. GCSE down the drain), as well as coffee table reading. Without the likes of Photoshop and digital cameras in the 40s, I'm very interested in just how they managed to create all the cool effects on them.
I actually have to book for the
Film Posters Of The 1990s
book, and think that it is insightful and interesting. It has beautiful colour photography. I'd also liked the 50s version, but I won't be greedy. One at a time.