Based on the true story of a woman who overcame all adversity and single-handedly dragged down a power company, Erin Brockovich tells the story a single mother (played by Julia Roberts), rejected from yet another job, but after an unfortunate car crash, she manages to argue her way into a job at Albert Finney's law firm. She soon discovers murky goings-on regarding a small town's water supply, causing disease and death. Most people would sit back and leave it, but Erin doesn't, instead, she dedicates the next few years of her life to righting the wrongs.

Many have found Roberts' performance grating, but I personally thought she was excellent in the lead, embodying all the key qualities of the character, both good and bad; she is caring and determined, yet impatient and foul-mouthed. Unlike many of the female leads presented in films today, what is so appealing to me about her performance is just how human it is. Her role is one very far removed for her usually romcomy turns, and all for the better. In the support, Albert Finney is amusing in a bumbling yet togethered role, and the two make a fitting pair. Marg Helgenberger, Aaron Eckhart and Cherry Jones also give notable performances.




Their work is made much easier with Steven Soderburgh's capable yet efficient direction, and some nimble dialogue, supplied by Susannah Grant. Even if we do have a good idea about which direction the movie will head, the cast and crew work deftly to make us experience the movie as well as enjoy it, so that the redemption, when it comes, means even more. The modern-day atmosphere is also captured well, in background design, as well as a catchy electro-funk soundtrack from Thomas Newman.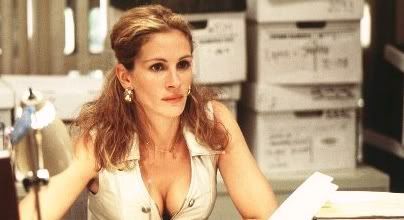 Fuelled mainly by its excellent performances, Erin Brockovich is a strange combination of genres. It is a biography of a woman that nobody had heard of. It is a drama as far as the seriousness of topic. And it is also a comedy, in how it so effortlessly captures the essence of a determined, brave, and kind-hearted woman. But essentially, Erin Brockovich is a feel-good David and Goliath story, of how the weak defeated the strong. It has its flaws (a slow middle act, some sketchy characters, as well as the question of how true to the facts it plays), but generally, it handles its subject matter with appropriate integrity, yet making it accessible to cinemagoers. Uplifting, engrossing and thoroughly enjoyable, Erin Brockovich is not to be missed.

A-