- Jake won't shave.


- WMD jokes.
- Sean Penn will come on, looking serious.
- George will clench his jaw each time he doesn't win.
- Brokeback Mountain and Capote jokes regarding gays.
- Keira, Reese and Charlize will look severely underfed.
- One of the Crash cast will big up Brokeback Mountain.
- Paul Haggis will say something about Million Dollar Baby.
- Scarlett Ho will wear a slutty dress ( a la Natalie Portman last year.)
- Ang Lee will say something awkward (at BAFTA, he dissed English food. Not cool.)
- Phil, George and Steven Spielberg will look beardy.
- Heath Ledger will go red and grab Michelle's hand when/if Naomi Watts comes on.
- Joaquin and Heath will scowl ungraciously when Philip Seymour Hoffman wins.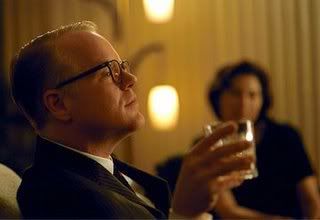 - Jake will be very smiley.
- Tramps like Lindsay Lohan and Hilary Duff won't be there.