The trauma of war has been an issue much covered in cinema, but in this film, we are shown the impact that it has on those who are most innocent of all – the children. The orphaned children are a range of interesting characters presented to us here, from Satellite, a sharp TV programmer to Pashow, an armless but still doggedly determined boy. The supporting children are shown as bright eyed watchers of war, eagerly awaiting it so that they can try their hand at the missiles, which, at first sounds amusing, but then escalates into something much more horrific, and we follow their misadventures through grainy camerawork, improvised dialogue and flashbacks.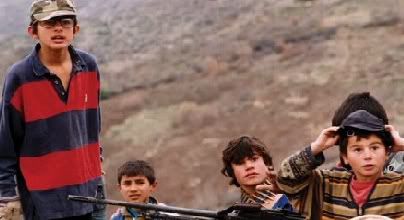 At the start, these innocent kids eagerly await the war.

The performances delivered by the children are nothing short of astounding. In the lead, Soran Ebrahim is in parts a mixture of caprice, zest and energy, and it is he who grasps our heart and makes for the first, slightly more light-hearted part of the film. In a completely different role, Avaz Latif is the film's heartbreak, and the one that endures the worst. Her performance is wordless, but she manages to portray all her deepest emotions through a look or gesture. When we delve deeper into the plot to realise exactly how much her character has suffered, it is then that the horror of war kicks in.

Avaz Latif is amazing as the girl who has suffered plenty, to no fault of her own.


Turtles Can Fly is not one for the easily depressed. Truth be told, after watching it, I was still in tears for several minutes, utterly helpless and wishing that something could be done about the constant loss of innnocence. Its message is blatant, and though a bleak one, presented in a harsh, disturbing war, makes a welcome change from all the Left, Right and Centre propaganda given to us in the Media. Turtles is a film that speaks for itself; no advertising needed.