Today, I finally did it…. I re-watched the Oscar video. I can only get over it if I can watch it. So I did. And here is my breakdown of the … event.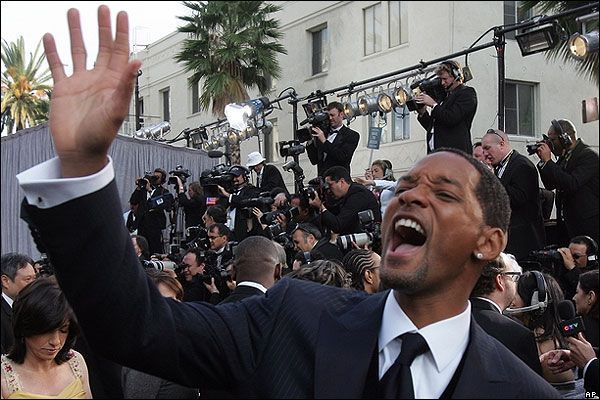 Jon Stewart started things nicely, though the George Clooney arse-kissing grated a little. He warmed us up by recapping on his CV ("the forth male lead in Death to Smoochy") and discussing Angelina Jolie's penchant for adopting everyone, but subtly (or not too subtly) dropping political jokes into the equation. Then, onto the introduction of the films. I told you there would be jokes about Capote regarding the gay matter! ("Not all gays are virile cowboys.") Cut to Catherine Keener smirking, and Phil with his arms crossed, half-smirking. Then there were Jewish jokes (that didn't seem to amuse Spielberg as much as they amused him), and a note on how just about everyone in Hollywood was in Crash. Well, not anyone with talent. Then, the hilarious gay cowboy montage, which ends with Heath and Michelle looking utterly horrified, but trying to conceal it. Perhaps the best part about his presenting, though, was not was he said, but the way he said it; Stewart had this great deadpan little way of delivering his speeches, but occasionally injected the much-needed enthusiasm with phrases like, "I wanted to be him!" and "how much more can he HAVE?!" I definitely hope he gets back next year, because he was sure as hell better than Chris Rock.

So, just for him:

Top 9 Jokes
01. The Best Actress ads.
02. Walk the Line, that's just Ray with white people!
03. The gay cowboy montage.
04. Scorsese – 0, 3 Six Mafia, 1
05. Bjork joke
06. Ladies, Gentlemen, … Felicity
07. Cinderella Man for makeup
08. Democracy would flourish!
09. Finger miming!

After the gay cowboy montage came on a very skinny Nicole Kidman, introducing each of the possible winners for Best Supporting Actor before we'd seen their clips. Hmm… felt a little Golden Globesy (Natalie and Adrien has just read the character profiles off the auto cues this year). The clips for each of them were quite well chosen, and Jake Gyllenhaal got the best clip (because he was the best actor.) But, George Clooney won, and he pranced onto the stage, whinging about how he wasn't going to win director. It was all I could do not to punch him, I tell ya. There was quite a lot of blowing his own trumpet here, so I switched off, but not enough to catch his tribute to how good it was that the Oscars were so out of touch, and how he was proud of them. I would agree, but look who they went and gave best film to.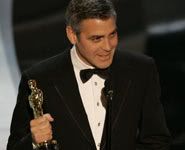 Tom Hanks offered some comical distraction before we headed onto Visual Effects, as Ben Stiller pranced around the stage in a green leotard. The audience titter nervously, and Spielberg shifts around nervously in his chair. Surprise, surprise, the winner is King Kong, and the men have stood up and walked up before their names are even announced. Slightly presumptuous, methinks. Anyway, there's a hurried speech much like the one they gave at the 2004 Oscars, boring.


Then there's Reese, smiley as ever, who presents Best Animated Film to Wallace and Gromit, which, again, the men know they've won, as they've come equipped with matching bow ties for their statuettes. Their speech is moderately amusing, and their award is well-deserved, but we're all really waiting for the more important awards. Still… Cracking cheese, Gromit!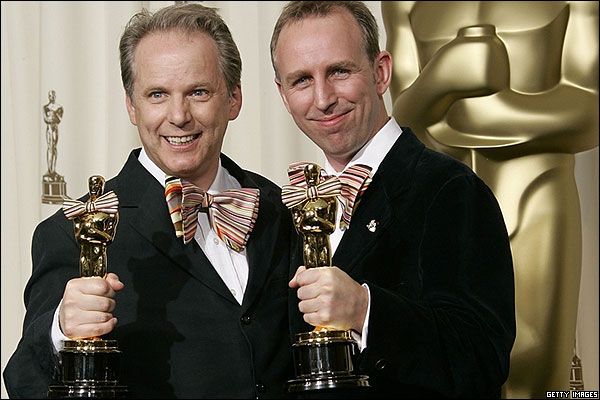 Next, Naomi comes on, and she ends up introducing Dolly Parton, rather than the song. No shots of Heath looking shifty, which can only mean he threatened the cameramen. Oh yeah. Anyway, Dolly Parton's performance is catchy and jubilant, and manages to get some of the audience to clap along (albeit half-heartedly).

Best Short Film goes to Six Shooter, an irish black comedy that channel 4 showed on Thursday, and I was able to catch (it was good!) Martin McDonagh is nice and humble, looking a little embarrassed and thanks Ireland, making it two wins so far for Great Britain! Anyway, things got a lot more embarrassing as two animals from Chicken little come on to shamelessly advertise their crappy movie. It was OK last year with The Incredibles, but that was because it was a good movie!


Jennifer Aniston comes on next, looking severely ill and thin, and introduces the five nominees for Best Costume in a completely monotonous way. Geisha takes the award, and Oscar-favourite Colleen Atwood. She thanks everyone in the movie, especially the actresses for "looking beautiful." Which is a repeat of what she said at BAFTA.

The first pointless montage of the night arrives, and its dedicated to the wonder of biopic. Annoying second rate music blasts away in the background as a stream of pictures arrive, none of which feature the two best biopics – Capote and Amadeus.

Will Ferrel's name is spelt wrong on the projector, but he comes on nonetheless, looking wonderfully ridiculous with 40-Year-Old Virgin star Steve Carell. Narnia wins, and the man kisses George Clooney's arse a little more. Wonderful.

Still, Jon Stewart proves his comedic worth with two more great jokes, before a 3 minute bit about the scientific awards… yawn.

Then Morgan Freeman comes on, getting into a pickle over the word "demonstrative," and introduces the nominees for Best Supporting Actress. In the clips shown, Michelle Williams got the best deal; Amy Adams next. Catherine Keener's clip featured more of the man on the train acting than she did, but she manages to smirk about it anyway. (I love Catherine, but she was smirking all the way through SAG and BAFTA too). Frances and Rachel's clips all compliment their mediocre performances, but really, Michelle got the best clip. Anyway, Rachel wins (Morgan pronounces her name wrong), and, to her credit, she keeps her speech short and gracious. Her win doesn't really bother me that much, as it could be worse (they could be awarding Thandie for Crash), and off she walks into the sunset, hand in hand with Morgan. A Brit victory!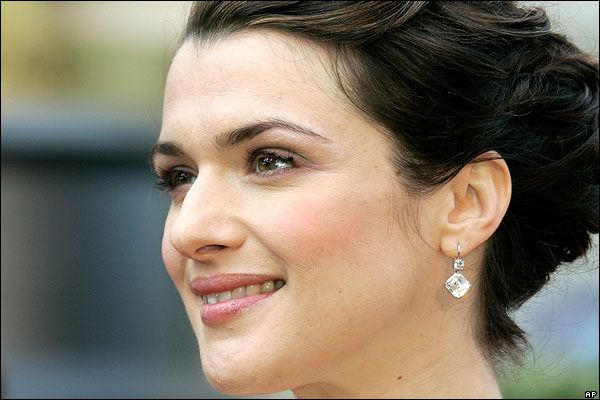 After the break, Lauren Bacall comes on to present yet another montage on film-noir. Thing is, she clearly hasn't learnt her lines and the old age is obviously getting to her, and she has to stop about 40 times, which makes for some amusement. (I'm lovely, I know.)

One of the best laughs of the night come in the form of the Best Actress campaigns show, which is utterly, utterly, hilarious. I couldn't stop laughing! Cut to Keira trying not to cry and Reese preparing for her Best Actress speech. Yawn.

Terrence Howard produces some short films (or something), and its only now that, whilst the people thank people, the annoying music plays underneath. Gah! Anyway, it's all going harmlessly, until the woman thanks Oscar for sitting her next to George Clooney at the luncheon. Gar! Cut to him trying not to smirk. GAR! What is it with all the arsekissing?! Gar!

Charlize next, for Best Documentary. Looks like she's just been hit on the shoulder by a huge bow! Woah. Anyway, not surpringly, March of the Penguins wins, and the French dudes come up, holding stuffed penguins, which is quite cute. Their speech is relatively generic. What is just plain odd, however, is the way they cut to Morgan Freeman standing backstage. So Friday Night with Johnny Ross-y.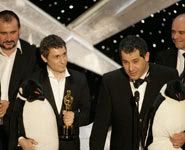 The second song of the night comes, in "In the Deep" from Crash. It's a decent song, but the performance of it is one of the most pretentious I have ever seen, with weirdoes walking in slow motion in the background, mist flowing around randomly, and images of the burning car from the film. Yawn.

After the break comes, in my opinion, the best part of the ceremony. No, not the jokes about the mist/snow in the "In the Deep" performance, and not the award for Best Art Direction, which goes to Memoirs of a Geisha (the award was in the bag before the film even came out, which is a shame, as I loved the Art direction in Good Night & Good Luck and Harry Potter), nor is it Sam L. Jackson presenting ANOTHER montage, and definitely not the president of the Academy rambling on about some crap or another. No, the best part is violin virtuouso Izstak Perlman plays the violin in accompaniment to the five films nominated for Best Score. I mean, WHAT. AN. EARGASM. Everything about that was absolutely perfect – the backing score, his violin playing, and the images in the background. I'd actually thought, though, that as they secured him to play the violin, it was a dead cert that Geisha would get best Score (he and cello God Yo Yo Ma played in that film). But how wrong was I! Brokeback Mountain wins it, and Gustavo Santaolalla gives the best speech of the night so far. It's a pity, as I don't really think Brokeback deserves the award, but hey, any more rewards for Brokeback is fine by me, plus, the images they showed in the background for that were absolutely beautiful. Beautiful. I love that film so much.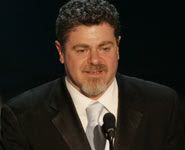 Things get even more beautiful as Jake walks on, looking, it must be said, somewhat bummed (I'd be too, if I'd lost to fecking George Clooney, but he is an actor, and he should try to conceal it more.) he introduces epics. I fall asleep; the whole point of this one is clear, it's telling us that downloading and pirating is wrong. Erm. Sure.

Next, Sin Citys Jessica Alba and the lovely Eric Bana come on to present the award for Sound mixing. They use somewhat of an odd analogy of comparing Editing to gorgeous males and females… erm…sure. Anyway, King Kong wins, boring.

Lily Tomlin and Meryl Streep come on next to present a lifetime achievement award to Robert Altman. They're both very giggly and funny, probably one of the best double acts. It doesn't interest the audience though, as she we see Ang Lee sitting in the audience, looking nervous. Preparing yourself for your win, Ang? Yup, so are we. Anyway, Robert is good and makes a joke about how he's not going to die. His speech is considerably longer than anyone elses that night.

Annoying Ludacris (who's even more annoying as a musician than as an actor) presents the song It's Hard out for a Pimp, which is totally CRAP. But, um… I also find it oddly catchy (shh!!!) Anyway, it wins Best Song, and the rapstars come on, swearing and shouting unclasssily. Sigh. Still, I probably would've been discontent whichever song had win, as I still stand firm that Brokeback's "A Love that Will Never Grow Old" was the best song in a film this year, and the fact that it was deemed ineligible because it wasn't played for long enough is RIDICULOUS.

Another joke about campaigning, but as it's for the cateogory of Best Sound Editing, no-one really cares or gets the jokes. What we all do get, though, is how Jennifer Garner almost trips up. Luckily, she recovers, and blushes, "I do my own stunts." Classy save. Could have gone so wrong. Anyway, only three in this category – Kong, Worlds & Geisha, the latter of which didn't… really… have any sound. Am I right? Anyway, another win for Kong. Bleh.

Bleh a little more, as George Clooney walks on, looking as smug as a teenager whose just gotten A*s in all their GCSEs. Cut to David Strathairn clapping dully. George presents all the filmstars who have passed away this year and it's a sombre few moments.

The uber-cool Will Smith walks on, saying some random phrases, and yippee, the wonderful Tsotsi wins. I was very annoyed when it didn't win the BAFTA, and I would have liked to see the lead actor nominated, but just this award should boost interest for such a brilliant film. Director Gavin Hood is very modest in his speech, though you can see he's ecstatic. It's a small win, but there should be more buzz for this film now.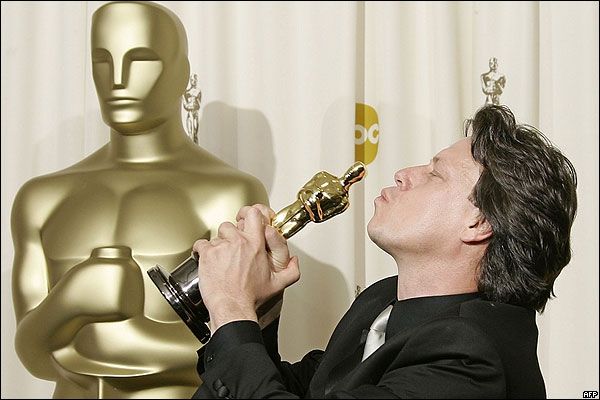 Jon Stewart gets Ziyi Zhang's name wrong, but she comes on nonetheless to present the award for Editing, taking great care over her English. Well, it's better than at the BAFTAs, where Rupert Grint was clearly trying to fool himself that Editing was the most important element to the film. Anyway, save Munich, the nominees are all unworthy. I mean, Crash? I wasn't aware there was any editing in that film. The editing in The Constant Gardener gave me a headache. And if Walk the Line was so well edited, how come I was so bored and felt that the film would never end? If it were up to me, I would totally have nominated Brokeback Mountain, March of the Penguins and Good Night and Good Luck for their superior Editing. Anyway, Crash wins, and Hughes Winbourne bores.

In an odd change of order (Actor & Actress before Cinematography and Screenplays? Huh?), Hilary Swank comes on and presents Best Actor. The clips are all good, I especially love Phil's one, where he was at his cute, teddy-bearing best! Well, I thought that until they showed him in real life, looking flushed and fat. Joaquin's clip was the worst, it was just 3 seconds of him singing, which is not the same as acting. Anyway, the winner is no surprise; he'd dominated the pre-cursors, and it truly WAS the best performance of the year, though I felt kind of bummed that it meant not a single acting performance from Brokeback Mountain got awarded. Nonetheless, I was happy for Phil, and his speech pleased me (though it left me wondering why he was using his envelope as a visor.) Oh, and Catherine was smirking, and Joaquin and Heath looked like they wanted to kill someone.


An obese John Travolta comes on to award cinematography, which goes to … Memoirs of a Geisha? I should have known there and then that this meant Brokeback wasn't going to take Best Pic, it wouldn't have made it with just best screenplay & score. Anyway, this makes it 3 wins for Geisha, which means, at this point in time, Memoirs of Geisha is in the lead, tallywise. How depressing is that?

Next, Jamie Foxx strides onto the stage, to present Best Actress. "Two of them are English. Two of them are American. One of them is South-African-American." Uh, isn't that just African American? Anyway, onto the clips – they were all quite bad, really. Charlize's clip was the worst, "Go to HELL!" A little overacting there, methinks. Anyway, Reese wins, which isn't too bad, but her speech is more than a little bad. She says "real woman," and tells us about her deep, deep desire to just matter. What does amuse me, though, is that when Reese thanks Joaquin, he glared at her! Sore loser, or what?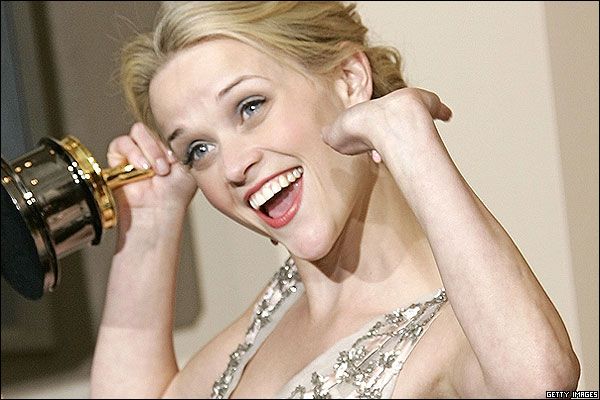 Anyway, a worthy winner actually gets awarded, in the form of Larry & Diana for Brokeback Mountain. Erm, one of the best written love stories of all times? I certainly think so! Their speeches are good, talking about art, though it was tempting fate a little bit for Larry McMurtry to wear jeans. He would have been embarrassed if he didn't win. But he really should have; he wrote the masterwork that was The Last Picture Show. Throughout the speech there are various shots of the cast and crew of Brokeback beaming, and I feel a false sense of happiness… at this point, I remembered thinking… "it's in the bag… it's in the bag…"
Uma comes on, looking nice but a bit overdone with the eye makeup. Anyway, Crash wins, and Paul Haggis looks every bit as bored about winning as he did at the BAFTAs. Anyway, something I realised – everyone was raving about how George Clooney got nominated for 3 Oscars, well, so did Paul Haggis! Anyway, the cast of Crash watch on happily, and Terrence Howard looks very pleased for some reason. Maybe he knew.

Tom Hanks walks onto the podium, cursing profusely under his breath. Save it for later, Tom. Anyway, they show pictures of all five directors working. Ang wears a funnt Mexican hat. Bennett looks astoundingly fine and merits a high pitched cheer from someone in the audience. Anyway, ANG WINS! Yay! His masterful directing on the wonderful film completely redeems what he says to the Oscar, "I wish I knew how to quit you!" weak, Ang, weak. The rest of the speech is very beautiful, though; you can tell that he's nervous, but he still manages to thank everyone important, as well as reinforcing the importance of love. I remember thinking at this point, "Brokeback's won!"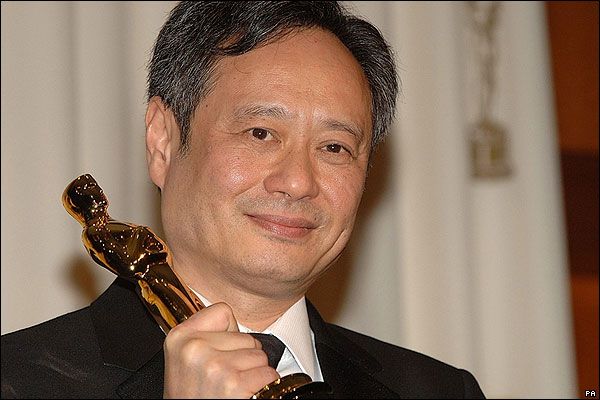 Which just goes to show how wrong you can be. It just goes to show how wrong Oscar can be. Crash wins. The cast of Crash holler and jump about. Paul Haggis' wife screams. Everyone hugs everyone else. Poor Jake Gyllenhaal and Heath Ledger are seated next to them. Everyone in the house is silent. We cannot believe what has just happened. I am so not watching the Oscars ever again in my life.

So, my own Oscar awards…
Best dressed: Keira Knightley
Male that Smirked the Most: George Clooney
Female that Smirked the Most: Catherine Keener
Best Acceptance Speech: Ang Lee
Worst Speech: Reese Witherspoon
Best Single Presenter: Will Smith
Best Presenting Duo: Meryl Streep & Lily Tomlin
Worst Win: Crash for best film, duh.
Best Win: Tie between Philip for Capote and Ang for Brokeback, but I'm going to say Ang, because that win was TRULY well deserved (not to say Phil's wasn't). Oh, I don't know!

Oh, and let me just say. SCREW the Oscars. Brokeback rocked the precursors. It rocked BAFTA. It rocked the Golden Globes. It rocked the WGA, DGA and PGA. It won just about every critic's award.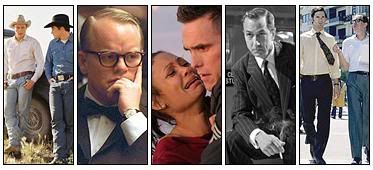 We know which film won, and we know which film deserved it. It's not fair, but. If you can't fix it, you've just gotta stand out.