On a night playing Poker with three bawdy men, Andy Stitzer (the excellent newcomer to the Frat Pack scene, Steve Carell), a geeky toy-collector reveals that he has never done the dirty. Digs and mockery ensue, but the men also vow to get Andy to end his shameful virginity and find him a woman. Chest waxing and loose women follow, as well as a whole lot of male self-deprecation in Jud Apatow's silly, sweet and appropriately raunchy romantic comedy.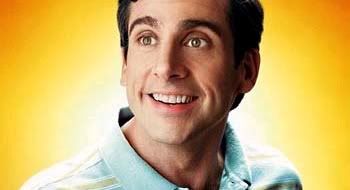 As a protagonist, Andy is a deeply likable, if slightly kooky guy. He rides a bicycle to work. He carefully paints his toy figurines, whilst chatting to them. And he only has eyes for Trish, an eBay entrepreneur from across the road. Trish is played by Catherine Keener, and it is her chemistry with Steve Carell that elevates this film above the generic gross-out formula. Their romance is presented in a careful, convincing way, without holding back on the jokes, but cleverly using Andy's virginity as both a convenience (the couple spend their time doing other things, such as conversing, flirting, or kissing) as well an obstacle (Trish cannot wait to get into Andy's pants, but he's still scared), that, only solidifies the belief in the pair's love for each other.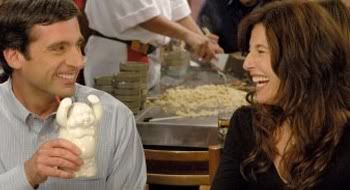 The supporting cast, whilst not quite to the standard of the leads, hold their roles well. Paul Rudd is funny is the guy who is still hung up on his heartless ex-girlfriend, whilst Romany Malco also amuses, though his character does nothing to dispel the African American infidel stereotype. However, despite that little hiccup, 40-Year-Old is extremely well written, for it blends comedy, drama and romance deftly, as well as creating two leads that we care about, amongst the bawdy humour, which, at some points, proves to be the movie's low point.

There are other flaws too, of course. There are lines that begin "I know you're gay because…" which only manage a raised eyebrow, and the less said about that weird singsong at the end, the better. The running time of 2 hours is also to be questioned (romcoms are always like, 90 mins. Didn't you know that?) But for its faults, The 40-Year-Old Virgin is a hilarious film, sometimes painfully so, but one that never fails to entertain.

B