On the 14th November, 1959, two men participate in the killings of a Kansan family. The next day, hot off the success of Breakfast at Tiffany's, esteemed novelist Truman Capote sets out, with his friend Harper Lee, to research the killings. A few days later, the killers are caught, and Capote, using underhand tactics and dirt tricks, befriends one of them, Perry Smith, in an ambiguous bond that both makes him (In Cold Blood made him famous) and breaks him.
For first time director Bennet Miller, it may seem like a risk, making the biopic of one of America's most famed writers. He had nothing to worry about; Capote is an excellent film. The central character, Truman Capote is surprisingly well rounded, showing his naturally flamboyant side, ("Dad!?") as well as his sensitive side, which are accentuated with his scenes with Perry Smith.
It is here that Capote truly shines as a piece of art. Phillip Seymour Hoffman, in a career-best performance, with newcomer Clifton Collins Jr prove to be an fitting pair, two misunderstood souls, one searching for redemption, the other searching for a hot topic. As the film progresses, Capote's intentions becoming increasingly less ambiguous, but so does his own state of mind. By allowing Perry Smith to die, Capote gets the book and recognition he's always wanted, but he realises, before it takes place, that that isn't what he truly wants.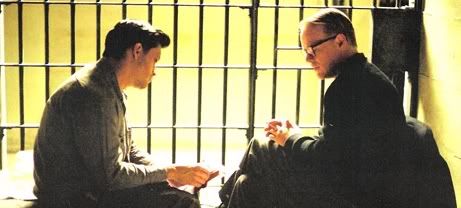 In the key role, Phillip Seymour Hoffman is amazing. He is the very embodiment of Truman Capote, from the little affectations (glasses being a key one), his oft-practice catch phrases, (I have a 94% recall) and ostentatious speeches, no-one could play him better. But it is also in the smaller, more emotional scenes, that Hoffman excels – the sight of him rolled in a ball on a bed is a not a pleasing one, nor is the final, devastating, "I did all I could" scene, where our protagonist, filled with self-loathing and regret, fights back tears. It seems that, without even doing much, Hoffman can steal the show from his peers.
Where many movies had been blasted for not being subtle enough, the key problem for Capote is that it is just too subtle. The music too sparse, the camerawork too efficient, the editing too frequent. Its almost as if the low budget wants to show. But all this is redeemed by Phillip Seymour Hoffman's performance, a tour-de-force in acting, and the heart of a tragically beautiful film.