The Oscar race has begun. In the running we have Political films uncovering corruption and wrongdoing (Munich¸ Good Night and Good Luck, The Constant Gardener), biopics of people that have suffered for the sake of their Art (Capote, Memoirs of a Geisha, Walk the Line), as well as tragic tales of people that don't quite fit in (King Kong, Crash).
But the film I'm rooting for, Brokeback Mountain, successfully incorporates elements from all these films, yet bringing to us a story that is completely different. It is one of the biggest risks made in the history of cinema.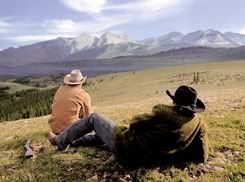 The year is 1963, and Ennis Del Mar (played by Heath Ledger), a ranch hand, and Jack Twist (the ever delectable Jake Gyllenhaal), a rodeo cowboy, meet on Brokeback Mountain in a summer job hoarding sheep. It's the classic chalk and cheese story. Ennis struggles to mumble his own name, and Jack, the charismatic charmer, lives to communicate. Over time a slow, steady bond forms, which leads suddenly and surprisingly into a physical relationship. After Brokeback they leave to follow their own lives – Ennis marries a sweet, shy girl, Alma (Michelle Williams) and Jack marries into money through rodeo princess Lureen (Anne Hathaway), but the memory of Brokeback Mountain is one that engulfs the men's lives for the next 20 years.
The opening half hour, in which Ennis and Jack are introduced to the audience as well a each other, is shot in a beautiful way that, whilst paying homage to the classic Westerns (with the fusions of the skylines and the grass, as well as the classic close ups of the eyes), has a dreamlike state of its own that bears closer resemblance of the 90s Art flicks. The colours and images presented to us by the cinematographer and utterly stunning, and the music, though used sparsely, is wonderful. It is impossible not to get sucked in to the story.
Adapted from E. Annie Proulx's short story, screenwriters Diana Ossana and Larry McMurtry have created a masterful script, one that stays completely true to the source material, yet combines some filmic techniques of their own, such as the foreshadowing: (Ennis moans over his lost shirt and we get a lingering close-up of Jack's face; it is later revealed that Jack took his shirt), and adding in many more scenes - some that give the characters any additional depth that may have been lacking in the story (the masculinity of the relationship is emphasised with an antler shooting session), some just for the enjoyability value (Jack driving a tractor with his son is a pricelessly cute moment).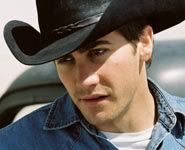 Director Ang Lee has coaxed superb performances out of his young actors. Despite all the hype surrounding Heath Ledger's performance, I was still astonished by his wordless, bruised performance as the brutal Ennis. Michelle Williams shines too, as the long-suffering wife, who has seen her husband with another man, but cannot bring herself to understand what it all means. Even Anne Hathaway, so mediocre in the Princess Diaries films, impresses as the disappointed Lureen. But the star of the show is Jake Gyllenhaal, in what must be a career-best turn. His doe-eyed portrayal of Jack is everything like how I'd expected him to be – vivacious in life, tender in love, brilliant on screen. The fact that Gyllenhaal is so 100% adorable just makes his change into a bitter, resentful old man even more depressing. Essential to the film is Jack and Ennis' chemistry, and Gyllenhaal and Ledger have risen to the task commendably. Never before in a film have two actors had such amazing chemistry.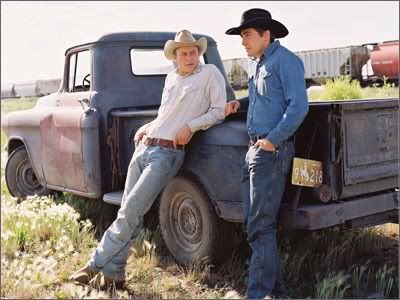 To label Brokeback Mountain as "that gay cowboy movie" is a horrendously cruel oversimplification. For one, intimate scenes aside, the film is every bit as heterosexual as Casablanca, maybe more so. More importantly, this film is not just a 130-minute mediation on gays. No stone is left unturned in terms of their relationship – we see how the women are affected by the relationship (in a gruelling scene Alma confronts her husband on his "fishing trips") and we see the suffering caused by the relationship. However much we're rooting for Jack and Ennis to make it, something tells us that they won't make it, yet the heartbreak, when it comes, is no less devastating.
There are a few scenes in the film that have really lingered with me. One is when Jack stands by the fire, half-asleep, and Ennis cuddles him and starts whispering sweet nothings into his ear. The affection and gentle charge of that scene makes it utterly unforgettable. Another scene is when Jack, sensing Ennis' frustration at having to leave Brokeback, playfully throws a lasso over him, which leads to a fight. To me, this scene encompasses everything the film represents – Jack's desire to make the relationship work and make Ennis happy, and Ennis' constant pushing him away. The same could go for almost any forbidden relationship.
Brokeback Mountain is by no means an uplifting film. Although the first half-hour has a light, jovial tone to it, the rest of the film escalates into despair, and every scene with Jack and Ennis, however sweet, bears a sense of impending doom. However, Brokeback Mountain is essentially a tribute to love, and the goodness of love. Many people have found solace in this film, and this is because, like Jack and Ennis, everyone has had a love they could not keep. Age differences, religion, class and the opinion's of other people are just a few reasons that lovers cannot be together. But Brokeback Mountain tells us not to shy away from love, because it is the most potent, wonderful feeling. Embrace it, and embrace the movie, a resounding triumph in every way; one of the best pieces of cinema to come along in recent years.