Rain, Rain...
The Americans have sun. We have rain. Let the Britishness commence.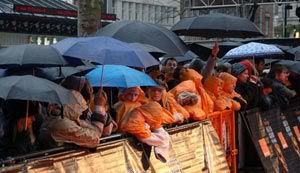 The night as a piece of entertainment
Now, I adore Stephen Fry, but sometimes, he can take it a bit too far. Clearly, he'd been reading the dictionary last night, because he went completely overboard with his introductions, "I waxed Jake last night," "The wholly winsome and winningly wholesome Rachel" as well as "Let us rub our hands together 'til they burn and blister for Miss Charlize Theron" were not lines that raised even a smile.
The opening montage was pretty (and cheeky too, in that it showed Munich, a film, completly snubbed by BAFTA to an extent of Million Dollar baby) and there were some unintentionally hilarious moments, (Rupert himself that Editing was the most important factor in a film and Matthew Modine called Harry Potter Harry Potty were key moments), but overall, I would have liked to have seen everyone make a bit more effort. Reese didn't even show up, Phil looked fat, Jake should've shaved, etc.

The fashion
Mr Fry was exactly right when he said everyone looked like the cast of March of the Penguins. I mean, talk about going overboard with the bow tie! Nonetheless, here were the people who I thoguht looked good...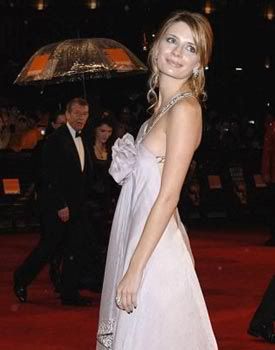 Mischa Barton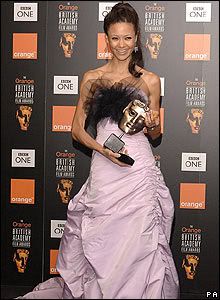 Thandie Newton
Catherine had nice hair too, but I couldn't be bothered to find a picture of her.

Best Hair and Make Up
Best Costume
Sound
Production Design
Meh, whoever wins these, I don't really care.

Film not in the English language – The Beat My Heart Skipped
Kung Fu Hustle was better.

Best Editing -The Constant Gardener
This was predictable but not understandable. The editing in this film actually gave me a headache. However, I knew it would be between this and Brokeback - for the past three years, BAFTA have awarded the smaller, more efficient editing of Focus Features.

Best Film Music - Memoirs of a Geisha
Oh yes.

Best Cinematography - Memoirs of a Geisha
Oh No. It was gorgeous, yes, but too saturated with colour. Brokeback and March of the Penguins deserved it more.
Best British Film - Wallace and Gromitt
Many wrongly predicted that The Constant Gardener would win this one, just because it was the only was in the category nominated for Best Film. BAFTA don't work that way. In past years Touching the Void and My Summer of Love have won best Brit flick, even though they've been in the same category as Best Picture nominees. Anyway, Wallace and Gromitt and A Cock and Bull Story were both deeply amusing films - I wanted one of those to win.
Best Original Screenplay - Crash
A deserved win; racial prejudice is every bit as important as sexuality. For a writer, Haggis could have said a bit more, though.
Best Adapted Screenplay - Brokeback Mountain
No film, not even Capote, was better written. Romance is such a difficult genre to present well, but Brokeback's script was subtle, humane, and believable. A job well done for Larry and Diana, if only they'd bothered to show up
Best Supporting Actress - Thandie Newton
Slightly annoying as Michelle was much better, but BAFTA need a bit of patriotism, due to all those Constant Gardener "snubs," and her speech was quite beautiful.
Best Suporting Actor – Jake Gyllenhaal
A wonderful choice, and Gyllenhaal truly deserves it. Note, too, how his win was every bit about BAFTAs ardent penchant for double nominations as it was about talent – Cheadle and Dillion split the vote for Crash, Syrianna and Good Night and Good Luck split the vote for George. Result? A runaway win for Jake. Now he's well on his way to getting the Oscar.
Best Actress – Reese Witherspoon
Whilst Reese was undoutably the soul of Walk the Line, I still would name Joan, Felicity, and Maria as better actresses in a lead role this year. However, Reese was the best in BAFTA's category.
Best Actor – Phil S. Hoffman
Yay! I was worried for a moment that BAFTA might do a Scarlett/Bill and award Heath, but they went for the right guy. Phillip, in my opinion, gave the best performance of the year as Truman Capote, yet he so graciously thanked Bennet, his director, in his acceptance speech. Lovely.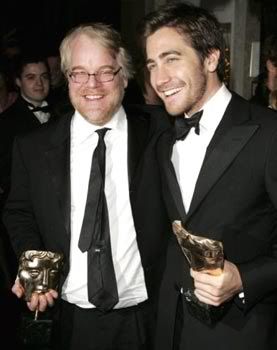 Phil and Jake - Brokeback Mountain II
Best Director - Ang Lee
This both surprised me and pleased me. I was hoping it'd happen, of course, as Ang Lee, someone who I'm not usually dazzled with, has moulded a quiet, haunting masterpiece, that actually did dazzle. But BAFTA is not known for kissing a film's arse too profusely (they awarded Lord of the Rings about 5). They rarely give best director and best film in the same year, but this year, due to Ang's magnificent work, they broke their own rules. Fantastic.
Best Film – Brokeback Mountain
Oh yes. Yes, yes, yes. And the same will happen on Oscar night, no matter what that fat idiot ebert says.

Brokeback wins a Mountain of BAFTAs. (Well no, it only won 4, but there you go...)