2005 was an emotive year, and many scenes have resonated in their misery. But essential to tragedy is life, and it is for that reason that I have emitted some "obvious scenes" – Peter's funeral in Jarhead, the begging for food/money in Cinderella Man, or the "obituary" in Proof – I just didn't connect with them. Some of the selected scenes, are admittedly, manipulative, others just spoke out to me. Read. Enjoy. Comment. Cry.
07. "I'm your father!" - Transamerica
Far better than anything Star Wars serves up, Huffman is astonishing.
06. Finding the statue of liberty - Crash
Don says a world without opening his mouth.
05. Driving away from Ennis – Brokeback Mountain
Gyllenhaal is superb in his sadness, despair, and look of utter self-loathing as he approaches the prostitute.
---- Zone where tears have been shed ---
04. Not accepting the lollypop – Kung Fu Hustle
This scene's a bit hazy now, because it was so long ago that'd I'd seen it, but what I do remember is that our lead, brilliant in his crappy fighting, tries to hold up a mute sweet-seller. What he doesn't realise immediately is that she captures everything he lost – his goodness, and wishing to use kung fu for the greater good. A flashback occurs where she'd been bullied into giving up her lollypop by some bullies, and he'd rescued her. She'd tried to say thank you by giving him the lollypop, but he never accepted it. She, however, kept it, and offers it to him again. And, again, remembering how naïve he'd been and resentful in how things have turned out, he rejects it again. Trust me, this scene is sadder, and a lot sweeter, than it sounds.
03. Cradling the shirts – Brokeback Mountain
Ennis del Mar visits then house of Jack Twist, love of his life, his raison d'etre, intending on getting his ashes. He doesn't; instead he finds something else – two shirts. One of these belongs to Jack, one is his, and they fit together like a glove. As Ennis remembers the Jack that he loves and had lost, he cradles the shirt, the only memory he has left of him. In this scene, Ledger is astounding, changing everything, even his breathing, to display the quiet, discomforting mourning that Ennis does. It'd be less upsetting if he just bawled.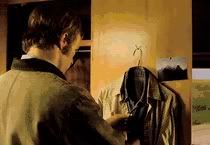 02. "I did all I could" – Capote
Truman, after getting a telegram from Perry, rushes to see him before he gets hung, and Perry greets him with an odd mixture of sadness, knowing and acceptance. Up until now, Capote has been awash with mixed feelings about whether or not he wants Perry Smith to be hung. The perfect novel, or love? Fate opts for the former, though it's also no thanks to Capote's intervention, a la public readings from his judgemental novel "In Cold Blood." When he meets Perry now, it almost seems that he knows, and in essence, so does Capote. In the most subtle of subtle scenes, Hoffman casts off any shade of camp and fights back his own tears to try to explain, yet all he can say is "I did all I could." It sounds like such a bare-faced lie, considering everything that has happened, but I believe that with such an egocentric, ambitious temperament as Capote, maybe he really did do all he could.

01. "I wish I knew how to quit you!" – Brokeback Mountain
20 years after their first encounter, the love affair still going strong. Well, until now, where Ennis has revealed that it won't be until November that he can see Jack. Jack Twist, 20 years older but none the wiser, can't understand why Ennis can't make the time to see him. From the 20 years of bottled-up frustration and rage comes the iconic "I wish I knew how to quit you!" monologue, tragic yet quasi-comedic in the inane ramblings that come out. Ennis follows with his rebuttal and the two men collapse into the floor together in a frantic embrace, which resolves nothing. The fact that Jack's flashback of much better times follows only accentuates how destructive and heartbreaking their relationship is. In another time and place things wouldn't have turned out this way.